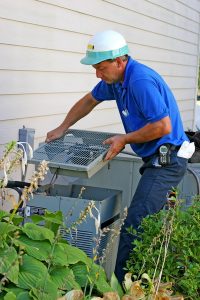 It can be easy for our customers to dismiss the need for air conditioning maintenance. Unless something is terribly wrong with your cooling system after all—like, say, you noticed a sudden loss of cooling power—you can be very tempted to put off a tune-up, particularly if your AC has been working "just fine."
The thing is, "just fine" isn't always good enough! Just like maintenance for your vehicle, routine cooling system maintenance is essential to the system's performance, longevity, and overall efficiency. It's also the best way to prevent the worst of repair needs. What does maintenance do, though? Read on as we uncover some of the truths of maintenance, and please give us a call when you're ready to schedule your next tune-up!
Inspect, Clean, Adjust, Recommend
The number one thing our technicians do during your cooling system maintenance is that we inspect the entire system. We'll look for anything that needs cleaning, and thoroughly clean out the system of any dirt or grime buildup. We'll adjust components that have become loose over time, perhaps due to wear and tear. And we will make recommendations for repair needs.
Getting repairs on your schedule as soon as they're recommended is the best way to prevent much bigger repair needs and costs later on down the line. Maintenance is the best way to improve the longevity and performance of your cooling system.
"When Should I Schedule Maintenance?"
This is a great question! Generally speaking, we advise that homeowners schedule air conditioning maintenance before they actually need their systems the most. So, it would be early spring, or right about now, that would be the typical time for this service.
The time of year, however, has less importance than the frequency of which you invest in this service. Maintenance tune-ups should be completed once a year. When you live somewhere as hot and humid as we do, you may want to consider it even more often.
If you have a heat pump system, then this should be upped to every 6 months, since the heat pump is a year-round HVAC system.
Improve Your Comfort and Safety with Professional Maintenance
One of the many reasons you should keep up on your annual air conditioning maintenance is for your comfort and the comfort of your family. Over time, AC systems start performing less and less effectively and efficiency, wearing down due to natural wear and tear—just like components of your vehicle would!
Maintenance also keeps you safe. AC systems aren't dangerous of course, but they do have components that could become harmful depending on the damage. For example, refrigerant is the chemical that actually makes the cooling process possible. If you have a refrigerant leak, it's harmful to your air conditioner and to anyone who comes in contact with the refrigerant. If you keep up on your maintenance appointments, however, you likely won't have to worry about this.
When you're ready to schedule maintenance for your AC, simply reach out to DC Cheek Heating, Cooling & Plumbing for expert HVAC service in Duluth, GA. Fixed, at the Speed of Life!