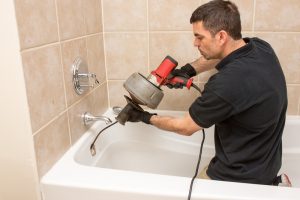 Do you have your drains routinely cleaned? If not, you should be! Our plumbers will come to your home and use the best in currently technology, such as hydro-jetting technology, to comprehensively clean out the drainpipes throughout your home. This removes the buildup that leads to frequent slow drains and clogs, and also helps prevent pipes from suffering other damage as well.
"But wait," you might be wondering, "can't I just use liquid drain cleaner I bought at the store to treat clogs?"
You can, but this would only provide a temporary solution to the problem, and these drain cleaning chemicals are so caustic that they could be harmful to you and are definitely—perhaps even ironically—harmful to your pipes. The corrosive chemicals cause corrosion, leading to premature pipe replacement. The best thing to do is invest in routine drain cleaning, and also to know how to prevent clogs from forming to begin with, which we've delved into below.