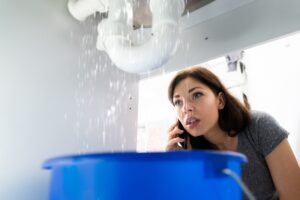 As unfortunate as this might be, plumbing problems are notoriously difficult to detect without the right professional equipment or experience. Most of your plumbing system is hidden from view, after all, and the issues that can afflict it like to start off small and subtle. For this reason, we recommend that you have preventive plumbing maintenance done at least once a year. However, it's also a good idea to familiarize yourself with the warning signs that something is amiss with your plumbing system.
And in the rare case that a problem does happen between maintenance sessions, you'll be able to detect it quickly and call our professional plumbers for repair. Read on to learn what the signs of a plumbing leak are, then give us a call to fix them!
A Drop in Water Pressure
A decline in your home's water pressure is never a good thing. It can be caused by a number of different problems, but it all comes down to two main issues—there's either a blockage or a leak.
A slow decline in water pressure over an extended period of time signals a growing leak or blockage. But a sudden decline in water pressure means you have a sudden leak—probably a pipe rupture—and you should call us right away. Regardless of which you're experiencing, it's never a bad idea to call a plumber!
High Water Bills
We get it, this is kind of subjective. But what we want you to keep an eye out for is higher than average water bills. If your water bills are seemingly rising beyond what's normal for this time of the year, then it might very well mean that you have a leak somewhere in the system. If your monthly bills indicate you're using way more water than you actually are, it's time to call a plumber.
Running Water Meter
One fairly simple way to see if your plumbing system has a leak is to check your water meter. Turn off all the plumbing appliances, and make sure nobody turns on a faucet or flushes the toilets. Then see if your water meter is still running. If it is, then there is water still leaving your system from somewhere, and that means there is a leak that needs to be repaired.
Visible Signs of Water Damage
While we hope this is never the case for our customers, sometimes the best sign of a leak is visible signs of water damage. You might see a spot on your flooring, wet carpet, a stain on your drywall or up on your ceiling—these are all signs of leaks.
Pinhole leaks, in particular, tend to happen in older pipes. If your home was built 30 or more years ago and you've never had repiping done, then the pipe materials can be old enough that they're beginning to corrode and start leaking. Fortunately, with us on your side, we'll get the leak fixed and guide you on the next best steps.
Reach out to DC Cheek Heating, Cooling & Plumbing today for professional service on your plumbing in Suwanee, GA.