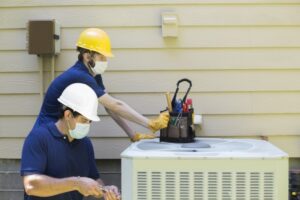 It makes sense that you might hesitate when you hear an HVAC professional recommend a service for your air conditioner that you don't necessarily need right at this moment. And maintenance is one of those perceived services. What if your air conditioner is working just fine? Is it really worth paying for an extra service?
Well first off, your air conditioner should perform much better than "just fine." Secondly, you wouldn't think of skipping maintenance for your car, right? You wouldn't be able to rely on it very much after all. You'd probably be too nervous to drive it much. We don't want you to be nervous about using your air conditioner! Especially when summer hits and you need that system on a daily basis.
The Power of Professional Maintenance
Maintenance is one of those things you might hear about a lot, but maybe don't know a lot about. It's when our professionals come in and comprehensively clean the interior components of your AC system or heating system to make sure it is able to function as efficiently as it's able to. Additionally, we inspect the system and check for any components that need to be adjusted, repaired, or even replaced.
The overall goal of professional AC maintenance is to improve the performance and longevity of your air conditioning system, and we really can't stress how important the service is.
"When Is the Best Time to Schedule AC Maintenance?"
Generally speaking, we suggest that you schedule your air conditioner tune-up before you need your system on a regular basis. In other words, springtime, or right now, is the best time to schedule it.
However, it bears mentioning that the time of year you have this service done is less important than how frequently you have it done. Maintenance should be done once a year at the very least. This is especially important if you have a heat pump system. A standard central air conditioner needs to be professionally maintained once a year, while a year-round heat pump needs a tune-up every 6 months.
Improve Your Home Comfort and Safety
One of the key reasons you should keep up on your annual air conditioning maintenance is for your comfort and the comfort of your family. Over time, AC systems begin performing less and less effectively and efficiently. The components start wearing down due to natural wear and tear, just like they would in your vehicle if you skipped maintenance there.
Maintenance also plays a role in keeping you safe. That's not to say that air conditioners are dangerous. However, they have components that could cause harm, such as refrigerant. Refrigerant is the chemical that actually makes it possible for your air conditioner to do its job, and maintenance helps us spot and even prevent leaks.
We care about your comfort, but more than that we care about your safety. This is why our maintenance plans are so thorough. Please don't hesitate to reach out to us and learn more!
To go ahead and schedule your HVAC service and tune-up, reach out to DC Cheek Heating & Cooling today!