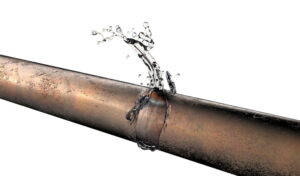 Perhaps one of the most common household problems to face homeowners is that of a plumbing leak. And if you do have one, it's oftentimes a much bigger problem than it initially looks like. Even the smallest pinhole leak can cause a lot of property damage, if it goes undetected for too long.
And that's the thing—plumbing leaks can go on for a pretty long time before they're noticeable. This is true whether it's from a pipe underneath a sink and behind cabinet doors, or a pipe running behind your drywall. This is why it's vital that you be attentive.
Of course, to pinpoint the exact cause and location of a leak, you need the help of a pro. But there are also signs you can watch and listen for that indicate leaks, so you know that it's time to call a pro. Read on as we uncover these signs.