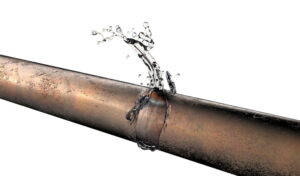 Perhaps one of the most common household problems to face homeowners is that of a plumbing leak. And if you do have one, it's oftentimes a much bigger problem than it initially looks like. Even the smallest pinhole leak can cause a lot of property damage, if it goes undetected for too long.
And that's the thing—plumbing leaks can go on for a pretty long time before they're noticeable. This is true whether it's from a pipe underneath a sink and behind cabinet doors, or a pipe running behind your drywall. This is why it's vital that you be attentive.
Of course, to pinpoint the exact cause and location of a leak, you need the help of a pro. But there are also signs you can watch and listen for that indicate leaks, so you know that it's time to call a pro. Read on as we uncover these signs.
Excessive Cracks in Your Foundation
Do you live in a home that's 20+ years old? It is common to see a few superficial cracks in your foundation—this occurs as the home "settles." But what's abnormal to see is when you have an excessive number of cracks, for no apparent reason.
What can happen is that a slab leak (underground leak) can go undetected and can cause the structural foundation of your home to weaken and shift, which can ultimately lead to those cracks you see.
A Spike in Your Water Bills
When you get your water bill each month, do you typically know what to expect? Chances are, you do. So, if you have used a reasonable amount of water the last few months, but you notice your water bills getting higher and higher, there's a good chance you have a hidden leak. The longer you let this go unchecked, the higher your water bills are going to get!
Visible Water Damage
When a leak goes unnoticed for too long, water can start to pool in unlikely spots. If you notice water stains on your floor, ceiling, or walls—particularly during a time where we don't have a lot of rain, which can indicate a roof leak rather than a plumbing leak—it's usually a sign that you do indeed have a leak. This is also true if you notice warmed walls, doors, bubbling surfaces, or buckling floors.
Mold or Mildew Development
If you notice any mold or mildew developing in the crevices of your home, particularly in unlikely spots, then you may have a water leak in your home. Leaks will raise the humidity levels in your home, and a humid house is a great environment for flourishing mold!
The Sound of Running Water
With no appliances on and no taps running you shouldn't hear running water, right? If you are, there's a chance that you could have something going on with your plumbing, such as a pipe leak behind the drywall or even a slab leak. The best thing you can do at this point is to give our team a call to check it out.
For quality plumbing in Sugar Hill, GA reach out to DC Cheek Heating, Cooling and Plumbing. "Fixed, At the Speed of Life!"