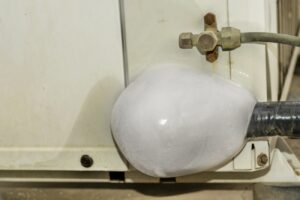 First off, we want to compliment you on realizing that something is wrong when you see ice developing anywhere on your air conditioner. Too many homeowners think that ice is part of the cooling process. After all, ice and refrigeration go together, right?
This may seem logical, but in actuality, ice has no part in the air conditioning process. Your air conditioner works by pulling heat out of your home and expelling it outdoors, then putting the air it brings in through a refrigerant process that uses gas and liquid to chill that air.
So that said, what's going on when you see ice on your air conditioner? Read on to find out!