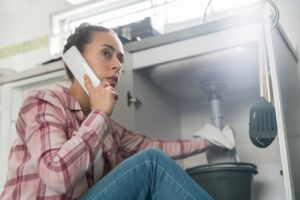 In our previous blog post, we went over an essential method to prevent plumbing leaks–routine plumbing maintenance. Still though, even with diligent care, there's still a chance you can experience leaks between routine plumbing maintenance sessions. This week, we're going to talk about how to find out if you already have a plumbing leak.
Knowing these signs can help you mitigate a much bigger problem–after all, leaks can be silent for a long time before you even notice the damage they've caused. Read on to learn more!
Cracks in Your Home's Foundation
We're going to start with this sign because it's an indication of one of the most insidious types of plumbing leaks there is–a slab leak.
Your home is in jeopardy if it's 20+ years old or older. While it's common to see a few superficial cracks in the foundation here or there as the home "settles," you shouldn't be seeing an excessive number of cracks with no other explanation.
What happens is that a slab leak goes undetected for a while, and all that water sitting underground starts to threaten the integrity of your home's foundation, causing structural problems. If you notice cracks, please give us a call right away.
An Unexplainable Rise in Your Water Bills
When you receive your utility bills each month, do you know what to expect when it comes to the cost of water? Chances are, you have a good idea. So, if you believe you've used a reasonable amount of water the last few months but your bills are not reflecting that, there's a chance you have a hidden leak.
Please call us right away, as the longer this goes unchecked, the higher your water bills will get.
Visible Water Damage
If a leak goes unnoticed for too long, water could potentially start to pool in unlikely spots. So, if you discover water stains on the floor, walls, or ceiling–especially if it's during a time where we don't have a lot of rain, it can be the sign that you do, indeed, have a leak. This is also true if you notice warm walls–thought it's important to note that this could also be a sign of an electrical issue. Either way, it's time to call in a home services pro!
Mold or Mildew Development
If you notice any mildew or mold growing in the crevices of your home, especially in unlikely spots, then you might have a water leak in the home. Leaks will raise the humidity levels of the home, and a humid house is the "perfect" environment for flourishing mold.
The Sound of Running Water
Do you detect the sound of running water, even though no plumbing appliances or fixtures are on at the time? This could very well be the sign of a plumbing leak. If this is coupled with a running water meter even though nothing is on, it's definitely indicative of a leak!
Look no further than DC Cheek Heating, Cooling & Plumbing for professional plumbing service in Roswell, GA. Contact us today!