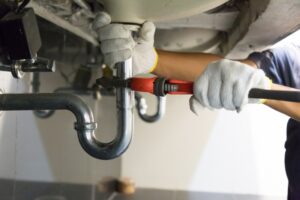 There's a component of your home that you rely on each and every day, but probably don't give a whole lot of thought to–your plumbing system! You rely on it for hot water to bathe with, cook with, clean with, and water to nourish your yard and houseplants.
But what if your pipes are old? Could this cause problems? Yup, it certainly can! Aging pipes are prone to pinhole leaks and corrosion. Sometimes, whole-house repiping is necessary to get this system back in good shape. Read on to find out if it might be time for repiping in your home!
Your Hot Water Just Never Seems Hot Enough
Let's say you hop in the shower at the beginning of the day, expecting a nice, hot stream of water to thaw you out. Instead, you get a lukewarm stream, or even cold. What gives?
While this can be a sign that your water heater needs repairs or maybe even an upgrade, if this problem is coupled with any of the symptoms we're about to mention below, then it's possible that repiping is actually what's needed.
Your Water Pressure Is Not Consistent
Have you noticed that the water pressure seems to have decreased throughout your home, or at least in various places like a bathroom or your kitchen area? Thinks like corrosion and pinholes that lead to plumbing leaks can be the culprit of this.
You've Noticed Discolored Water, Especially Hot Water
Hot water lines are a lot more susceptible to rust and corrosion than cold water lines. However, if you start to notice discoloration with your water coming out of either line, then it's a sign that something is wrong with your plumbing and you may very well need repiping.
You Constantly Experience Leaks
The thing about your pipes failing is that this is usually a problem that builds up over time. You may think that you've just been a little unlucky throughout the past few years and the minor leaks you've been having aren't part of the issue. But the thing is, this isn't normal and those minor leaks are probably a sign of something much bigger.
Your Plumbing System Is Getting Noisy
Your plumbing system is never going to be silent. In fact, it's even normal for pipes to move around a bit when they're adjusting to fluctuating temperatures. But if your plumbing system seems to be getting noisier than ever before–let's say you're hearing rattling, screeching, thudding, or clicking noises–then it's time to give us a call.
You Know That Your Plumbing System Is Old
If you've done some remodeling over the years but haven't really addressed your entire plumbing system in a few decades, then it's likely your plumbing pipes are made from an older material that is susceptible to corrosion and leaks.
Repiping can help you avoid problems like slab leaks, leaks behind drywall, and other huge plumbing emergencies. If you're unsure of whether repiping is a service you need, please don't hesitate to contact us for a video pipe inspection.
For professional plumbing in Woodstock, GA, contact DC Cheek Heating, Cooling & Plumbing.