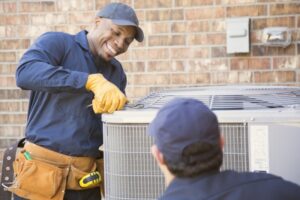 Temperatures are starting to cool! True, it's not going to start snowing tomorrow or anything, but this does mean that it's almost time to give our air conditioners some reprieve in favor of our heating systems.
We have a question for you though–did you have your air conditioner maintained last spring? Make that two questions–have you scheduled your heating maintenance yet?
Routine maintenance is essential if you want HVAC systems that operate as efficiently and effectively as possible, for as long as possible. This means getting a tune-up at least once a year each for your air conditioner and heater. And if you have a heat pump system? You should get a tune up every 6 months.
If you're worried about remembering to actually schedule these maintenance sessions? Worry no more! Enroll in a maintenance program and we'll do the remembering for you.
The Benefits of Regular HVAC Maintenance
If you've lived in our area for even just a year, you know how much our temperatures can fluctuate. Our summers are oppresively hot and humid while our winters can be downright chilly. This means we put our HVAC systems to work, almost on a daily basis, save a handful of weeks each fall and spring.
Regular maintenance helps to ensure that your air conditioner and your heater are always ready to combat whatever Mother Nature may bring. it also:
Reduces your Energy Costs
Generally speaking, each year that your air conditioner or heating system going without its routine maintenance, it loses about 5% of its efficiency. That is, as components wear down and your systems accumulate dust, dirt, and other debris they have to run longer to try to reach your desired temperatures–they essentially have to work harder and drain more energy to do their jobs.
On the contrary, routine maintenance helps your AC or furnace maintain 95% of its original efficiency throughout its entire service life.
Helps You Avoid Sudden HVAC breakdowns
Perhaps the main reason you should invest in regular maintenance for your HVAC systems is to avoid unexpected, emergency breakdowns. The last thing you need on a stifling hot summer day is for your AC to give out on you, or your heater to give out on a cold winter night.
Prevents Unnecessary Repairs
Routine tune-ups can help you avoid up to 85% of the repairs your HVAC system may ever need in its lifespan. Sure, you'll still need the occasional repair here or there. But maintenance helps our technicians catch small needs before they grow into much bigger emergencies.
Ask About Our Total Care Club Agreement
This is our plumbing and HVAC maintenance program we have that offers customers all of the above benefits, in addition to discounts on repairs, utility company savings and rebates, repair warranties, and much more!
Get in touch with our team to learn more and to enroll in our Total Care Club. Your HVAC systems and your wallet will thank us!
When you're ready to schedule heating maintenance, just reach out to
DC Cheek Heating, Cooling & Plumbing. Fixed, At the Speed of Life!