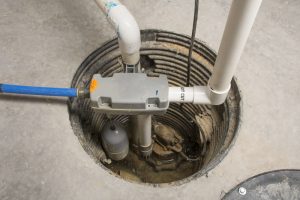 There are some parts of the country where homeowners have never even heard the term "sump pump" let alone do they know what it is. They don't need to know, after all—their home may be in a position where flooding is just not a concern.
Unfortunately, we're not in that part of the country! Sump pumps are common in our area, and very often necessary. Winter and spring are times for heavy rains, and then as we get later in the year we also have tropical storm conditions to contend with—that can send floodwaters right into your home.
The question is, is your sump pump in good condition to handle this?
Maintaining Your Sump Pump
There's some good news when it comes to maintaining your sump pump. For other large and important appliances, you need to hire a professional to do the work—but for testing your sump pump, this isn't necessary. There are a few things you can and should check on a routine basis—once every few months. We recommend brief sump pump inspections after every storm, as well as the following tips every few months:
Check the Condition of Your Sump Pump: Watch out for any obvious signs of wear and tear. Examples of this can include any signs that the cord is frayed, or is not plugged into a proper GFCI outlet. Look for cracks in the case, and make sure that your pump is upright.
Add Water to the Basin: Add enough water to fill the top of the pit your sump pump is in. The pump should activate right away—if it doesn't then it's time to call a pro.
Clean the Grate or Screen at the Bottom of the Pump: This screen can collect debris over time, requiring cleaning.
Check the Drains: The drains that lead from your sump pump outside go either to the sewer line or to your yard. If it's the latter in your case, be sure to check that the drainage can move freely, and there is nothing blocking the opening.
When it's Time to Call the Pros
As illustrated above, there are certainly some things you can do on your own to ensure that your sump pumps is in good condition for any flooding weather or plumbing problem—like propping it upright and securing it into place, or cleaning out the drain and making sure it's unobstructed.
However, there may come a time where you need to call in a pro for your sump pump services, such as if:
You noticed cracks along the sump pump cover or any other signs of damage.
The sump pump shut down completely and the circuit breaker won't reset it.
Water isn't moving out quickly enough, and clearing debris from the drain doesn't help.
"Do I Really Need a Sump Pump?"
Let's say you stumbled across this blog post but you don't actually have a sump pump in place—do you need one? We can tell you that in our part of the country, it's definitely a good idea. If you've recently purchased a new property, or if you plan to, be sure to ask around to find out if your neighbors or even the previous owner of your house had problems with basement or crawlspace flooding.
Be sure, too, to check for signs of water damage in the basement, and take the proper steps to protect your home if necessary.
When you need a trustworthy plumber in Woodstock, GA, contact DC Cheek Heating, Cooling & Plumbing. "Fixed, At the Speed of Life!"