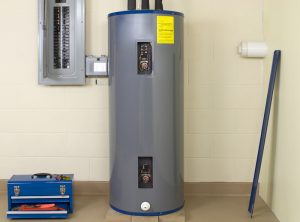 When you think about everything you have to do to maintain a clean, comfortable, and efficient home, you probably don't think much about your water heater—even though this system is one you use every single day, no matter the time of year. The fact is, you could potentially waste a lot of energy by not properly caring for your water heater, no matter what type you have. The good news is, we're here with some tips on how to actually save energy—and subsequently, money—on your water heater use! Read on as we uncover some of our top tips.
1. Lower the Thermostat!
The fact is, you probably have your water heater's thermostat set much higher than it actually needs to be. Can you remember the last time your water didn't seem hot enough? True, it needs to be a certain temperature to provide sanitization for things like your dishwasher and clothes washer—but even then many homeowners have it hotter than necessary.
Most manufacturer settings have the water heater set at 140°F, when the average household can get by with it at 120°F and may not even notice a big difference—but your energy bills will show a difference.
2. Use Insulation
If you have a storage tank water heater, one of the biggest disadvantages is that if you don't use up all the hot water, it cools off to the point that the water heater has to start running again to heat it back up. Standby heat loss is a big reason homeowners switch to a tankless water heater.
But if that's not currently an option for you, then you might want to consider insulating your storage tank water heater. Be sure to call our plumbers if you're unsure of how to safely do so!
3. Repair Leaks!
This probably seems obvious, but the truth is that many homeowners don't realize how much water a year that a leaky faucet or pinhole leak in a pipe can waste. It's gallons, by the way! If the leak is coming from a hot water line, that means that your water heater is needlessly losing water, that you're still paying for.
That said, repairing leaks should be a priority even if it's from a cold water line. The point is, you're still losing water, which isn't good for your wallet or for the environment.
4. Have Your Water Heater Professionally Maintained
Whether you have a storage tank water heater or a tankless system, scaling is a very real problem. Scaling is what happens when hard water minerals—calcium, magnesium, and iron—build up and start impacting the inside of the tank or even the tankless water heater. Particles coat the heat exchangers, preventing them from doing their job, and therefore your system won't work as efficiently as its meant to.
During making though, our technicians do what's called flushing to your water heater, to rid it of this mineral buildup. Give us a call today to schedule your water heater tune-up!
To learn more about water heaters in Alpharetta, GA and to schedule services, contact DC Cheek Heating, Cooling & Plumbing. "Fixed, At the Speed of Life!"