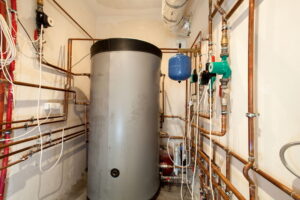 Having sufficient hot water, at a hot enough temperature, is absolutely critical in a commercial property. Businesses are required to have hot running water in their bathrooms to ensure that thorough and effective hand-washing is possible. And if your business has anything to do with food, there are strict requirements regarding hot water. In Georgia, every commercial establishment must have water of at least 100°F for hand-washing, and food service establishments must have water at 150°F for dishwashing and at least 165°F for sanitizing. You don't want to be facing legal repercussions for violating these codes. Is your business's water heater doing the job well enough? What factors should you consider when deciding if you need to replace it?
Temperature
This is the obvious thing to consider. When you set your water heater to a specific temperature, does it reliably provide water at that temperature? If it is struggling to maintain the appropriate temperature, repair might be all you need. But if this problem is compounded by any of the other factors on this list, replacement could be a better option.
Volume
A variety of things can make it so that your commercial water heater doesn't provide a sufficient volume of hot water. Mineral scaling on the inside of the tank can gradually build up until it occupies so much space that there isn't enough room for the full quantity of water that the system should be heating. This is a problem that can be resolved by having a technician who is experienced with commercial water heaters in Suwanee, GA flush the system and clear away the buildup.
However, sometimes the use of a building changes, and the current businesses simply have a greater need for hot water. If your water heater has been maintained and flushed, and you still don't have enough hot water, you may need a larger system.
Repair Frequency
If your commercial water heater has been struggling, with frequent issues and breakdowns, you might be spending a lot on repairs. At some point, you should consider whether it would be a better use of your money to invest in a new system that will work smoothly and not incur repair costs.
Age
Commercial water heaters should last fifteen or twenty years if they are maintained regularly. As they reach the end of this lifespan, keep in mind that there is no repair that will make them last forever. Spending a lot of money maintaining and repairing a system that is twenty years old is a poor investment. No matter what you do, it will soon be past the point of being repairable.
If you have questions or concerns about your commercial water heater, we want to help you find solutions. We prioritize being honest with customers and offering options rather than pushing expensive sales. If your existing system is viable, we'll help you keep it running so you don't have to invest in a new water heater until it actually becomes necessary.
For commercial water heater maintenance, repair, and replacement, contact DC Cheek Heating, Cooling & Plumbing today. Fixed, At the Speed of Life!