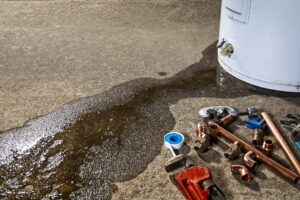 If you own a commercial property, there are so many things you're constantly trying to stay on top of. From HVAC repairs to simply replacing lightbulbs, there's always something that needs to be done. You definitely don't want to overlook something, like the water heater, until it becomes an emergency.
Anticipating the needs of your commercial property gives you a chance to plan ahead. If you're concerned about your commercial water heater, find out now whether repairs will suffice or if you need to plan to replace it.
There are four main considerations you should weigh in your decision. Any one of these factors could tip the scales toward replacement rather than repair. If more than one of these factors is a concern, repairs might be impossible, or at least a very poor investment.
The Effectiveness of the Water Heater
Commercial water heaters have a large capacity and, as long as they were not undersized for the needs of the building to begin with, running out of hot water should not be something you need to worry about. If your building used to have plenty of hot water and your tenants or employees are finding that it just doesn't last anymore, you've got a significant problem
Wear and tear over time can cut down on a water heater's ability to get the job done. Regular maintenance and flushing of sediment as needed will keep that decline to a minimum, but eventually, it won't be enough to counteract the deterioration.
The Repair Needs of the Water Heater
Is a major repair required now in order to keep the water heater running? Have minor repair needs been cropping up more and more often? Does it seem like each repair is just a band-aid and nothing has made a lasting difference?
As water heaters (and other appliances) age, repair needs become more frequent. If this is already starting to be an issue, it will likely only get worse.
The Age of the Water Heater
Depending on the system, the needs of the building, and how regularly maintenance has been done, a commercial water heater might last for ten years, or it might last as many as twenty. It's fair to say that if the system is more than fifteen years old, you'll be looking at replacement in the not-too-distant future anyway.
An aging water heater that's performed well and only needs minor commercial water heater repair in Alpharetta, GA might be worth continuing to invest in for the time being. But if it needs a costly repair, has needed repairs frequently, and hasn't had consistent maintenance, you'll be better off investing in a replacement.
Corrosion
Is there rust visible on your water heater? If it's only on minor external parts, those might be replaceable before the corrosion spreads to the tank itself. Once the tank is rusting—and if the rust is on the inside, discolored water might be your first clue—there is nothing that can be done to save it.
Whether you're hoping repairs will save the system or you're ready to install a new commercial water heater, we're at your service.
To speak with a member of our team, contact DC Cheek Heating, Cooling & Plumbing today. Fixed, At the Speed of Life!