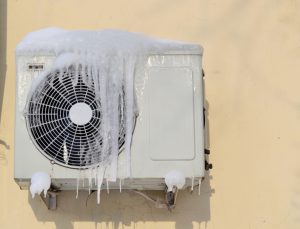 The short answer to this is "no," but don't worry, we will elaborate.
We do understand, after all, why this misconception exists. Since it is an air conditioner's job to cool the home, it makes sense that ice may be part of the cooling process. But on the contrary, cooling systems don't use ice at all, and this isn't an effective way to cool your home.
So then, why is ice forming on your air conditioner? And what can you do about it? Read on as we dive into this.
How Ice Forms on Your AC
First off, let's get something straight–your air conditioner runs on electricity and refrigerant, and in no part of the process does it ever use or rely on ice. Any ice on your machine is a bad sign. It will lead to your AC system beginning to lose efficiency, which ultimately means higher energy bills, and a poorly performing cooling system.
Ice typically forms on an air conditioner's evaporator coils, for one of two reasons.
If a dirty or clogged air filter is left in your air conditioner for too long, it restricts airflow. Therefore, there isn't enough air circulating over the evaporator coils. As a result, this coil drops below freezing, and ice forms. Ironically, the frozen evaporator coil is then not able to absorb heat and effectively operate as it should. The solution to this is prevention–be sure to change your clean your air filter every 1-3 months.
Your evaporator coil may alternatively freeze up due to low refrigerant levels. Refrigerant has to circulate through the evaporator coil and distribute heat. Without enough refrigerant, the temperature of the evaporator coil will fall too low and will start freezing up. Low refrigerant requires not only being refilled (recharged) but also the area where it leaked from must be repaired.
Be Sure to Contact a Pro!
The instinct when you see ice on your air conditioner is to try to thaw and melt it, but we urge you not to do this. Homeowners have actually hurt their air conditioners by trying to chip off ice themselves, or take a blowdryer and try to thaw it.
Trying to resolve this problem on your own, or ignoring it, can lead to a broken down air conditioner very quickly. Air conditioning systems are complex pieces of equipment, and it's always best to get in touch with a trained professional instead of making your own judgment call.
There's no need to worry with DC Cheek on your side. Our highly trained and experienced HVAC technicians are here to help. Not only can we effectively remove the ice, but we'll pinpoint what caused it to begin with, and we will be able to make recommendations for you so that it never happens again in the future.
For professional and reliable air conditioning repair in Cumming, GA, contact DC Cheek Heating, Cooling & Plumbing today. "Fixed, At the Speed of Life!"