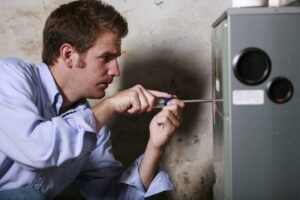 With a climate like ours, and being near the end of "winter," whatever that word is worth to us, it might seem pretty pointless to schedule heating maintenance if you haven't done so yet this heating season.
And yet, heating maintenance is the most important heating service you can schedule for your furnace or any other heating system.
Why? Because maintenance is the only way you'll ensure that your heater works as efficiently and effectively as possible, for last long as possible. Sure, we might not need to use ours around here as much as our friends up north, but when you do need yours, you want it to work well right?
And the good news is, unless your heater has completely broken down to the point that no repair will get it back up and running again, it's never too late for heating maintenance! Here's why…
Maintenance Helps Boost Efficiency
Scheduling routine maintenance tune-ups for your furnace or heating system will help it operate with the best energy efficiency possible. Without maintenance, your heater will actually start losing efficiency.
Alternatively, if you schedule maintenance, you can enjoy improved energy efficiency all winter long, and even into spring if we still have some chillier temperatures.
Maintenance Boosts Performance
When you regularly schedule your maintenance appointments, it helps your heater operate more effectively. Dirt buildup or loose components that could otherwise hinder your heater's operation are addressed, which allows it to perform as well as it should.
This means that you get to enjoy better comfort through the chillier months.
Maintenance Improves Safety
Here's the thing–gas furnaces are not inherently dangerous. However, when they're not properly cared for, they can become so. Thankfully though, scheduling regular maintenance helps us address any problems in the system before they escalate into anything potentially hazardous. This includes frayed gas lines and cracked heat exchangers, both of which can invite combustion gas exposure into your household.
The longer a furnace goes without the needed upkeep, the more likely it can become unsafe.
Maintenance Reduces Repair Needs
Routine maintenance will help to reduce the number of repairs and the severity of repair needs your furnace would otherwise need. During maintenance, our technicians thoroughly inspect your system. We clean it and inspect it for any signs of wear and tear or anything that needs adjusting.
This helps us catch small issues before they even have the chance to grow into much bigger problems.
Maintenance Helps Your System Last Longer
Your furnace will last longer with routine maintenance! Maintenance helps it defend against wear and tear issues that could otherwise threaten its lifespan. With proper maintenance, a furnace can be expected to have a useful service life of 10-15 years.
Keep in mind, when we say useful service life, we're talking about how long your furnace can stay efficient and effective. Sure, your furnace might still run after 10-15 years, but it's not going to do so affordably, especially without maintenance.
You shouldn't have to pay an arm and a leg for fruitless furnace repairs when you can prevent them to begin with, with professional maintenance!
DC Cheek Heating, Cooling & Plumbing is your trusted resource for reliable heating repair in Johns Creek, GA. Contact us today!