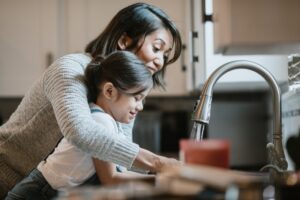 Planning a remodel is one of the most fun and exciting things you can do in your home. And this is the perfect time of year to do so, between the holidays and spring/summer when you're most likely to have guests over.
Oftentimes, however, people don't think too much about their plumbing system in regards to their remodel. Sure, you might plan on getting a new kitchen faucet, or maybe you're adding a garbage disposal after never having one before. But have you considered all the plumbing factors you need to?
Read on to learn more, and for your kitchen plumbing needs, please don't hesitate to reach out to us.
What to Know About Your Plumbing Lines
You might not have already considered this, but when it comes to a remodel in your kitchen, you might need to move water lines, drains, and more to accommodate a new kitchen layout. This is especially true when it comes to your refrigerator if it has an ice maker, as well as your dishwasher.
And moving plumbing pipes or rerouting plumbing lines isn't something you should try to do on your own. This can actually cause more harm than good to your plumbing system, and leave you calling the professionals for repairs later on anyhow.
If you are planning on changing the layout of your plumbing appliances (including the fridge!) and fixtures during your kitchen remodel, please reach out to our team for advice on the best way to do so.
What To Know About Your Gas Lines
Did you know that you need a qualified and specially licensed plumbing professional to work on your gas lines? Homeowners often don't think about this, but it's true!
Many homeowners have gas-powered appliances in their kitchen areas, including ovens and ranges. Even if you don't, if you or someone in your family enjoy cooking, you may want to consider upgrading to gas-powered appliances.
A kitchen remodel is the perfect time to call a plumber to convert an electric stove to a gas-powered system since everything will be torn out anyway and easily; accessible. And just like with the water lines, the location of your gas lines will need to be noted before your kitchen remodel starts so that everything is carefully protected.
Aesthetic Upgrades
Stainless steel doesn't just look good–the attached water lines and plumbing pipes are going to be better quality than your existing plumbing. You might even want to consider during this time looking into any other areas of your home that may need repiping.
If your home is 30-50 years old and the plumbing is just as old, you could be susceptible to leaks and other plumbing damage simply due to age and corrosion. When you're doing a remodel, it's the perfect time to consider this kind of upgrade.
We are happy to go over all your options with you here at DC Cheek, and if you want to explore your repiping needs throughout your home, we're here for that too!
For professional service on your kitchen plumbing in Johns Creek, GA, look no further than DC Cheek Heating, Cooling & Plumbing. Contact us today!