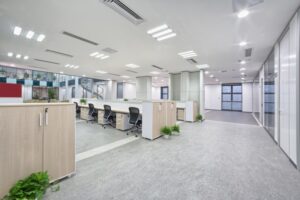 Keeping indoor spaces at a comfortable temperature for the people who use them is obviously important. When it comes to commercial properties, there can be factors beyond comfort that you should consider. For example, if it's uncomfortably cold for customers at the businesses in your building, they won't want to spend much time (or money) there.
As the winter begins to wind down, it's a good time to evaluate how your commercial building's heating system has been working. It might be better to start planning for a replacement now, so you don't end up with an emergency situation next winter. Here are some signs that it might be time to consider getting a new heater.
Age
Much like a home heating system, a commercial heater usually performs beautifully for at least a decade with annual maintenance. As it reaches fifteen years, it's likely to be on its last legs. This puts you at much higher risk for the kind of breakdown that leaves your building without heat until it is repaired or replaced.
Performance
If your heater's ability to keep the whole building cozy has been on the decline despite regular maintenance, it is probably suffering from years of wear and tear and is probably getting too old to work as well as it once did. On the other hand, if your heater has always struggled to keep the space warm, it may simply be undersized for the needs of the building. It's critical to have the building evaluated by a professional in commercial heating in Johns Creek, GA before choosing a heating system in order to select one that will get the job done properly, without cold spots or inefficiency.
Efficiency
If your energy usage has been on the rise even though you haven't needed any more heat, it might be time to replace your system. For many years, annual maintenance can keep restoring the system to a high level of efficiency, but eventually, that wear and tear simply causes the system to use more fuel to function.
Repair Frequency
Even minor repairs can add up to being quite costly if they happen multiple times per year. This is more likely with an older heating system, and if you do have a heater that keeps needing more and more repair, that's not an issue that will resolve itself. New heaters, if properly installed by professionals, often need little to no repair in the first several years of operation.
Repair Cost
While paying for a minor repair to make it through the end of the winter might be a reasonable financial choice, paying for a major repair for a heater that is old, underperforming, inefficient, or likely to keep needing several repairs per year would be a very bad investment.
Professional Installation
Commercial heating systems are not simply larger versions of home heating systems. They are more complex, because the spaces they heat and the needs of the people using the spaces are more complex. When you choose a team of heating professionals with specific training and experience in commercial spaces, you can rest assured that your installation will set the stage for many years of cozy comfort in your building. 
If you have concerns about your commercial heater, contact DC Cheek Heating, Cooling & Plumbing today. Fixed, At the Speed of Life!