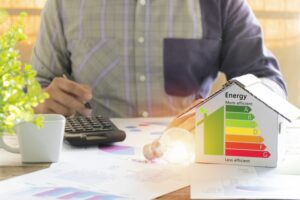 These days, everyone knows that keeping your home energy-efficient is better for the environment and much less costly when it comes time to pay your utility bills. But figuring out exactly how to be more efficient with your home's energy use can be a little challenging. Where is energy being lost? What can be done about it? A professional home energy audit can answer those questions and more.
Signs Your Home Needs an Energy Audit
Is it time to take control of your home's energy consumption? Here are some things that indicate that an energy audit could make a big difference to your home and your energy costs.
Heating and Cooling Challenges: Do you feel that your heater or air conditioner struggles to keep your home at a comfortable temperature? Are there hot or cold spots in your house that you can never quite get to the temperature you want?
Door and Window Concerns: Do you wonder about the age or quality of your doors or windows? Do you feel drafts coming from them?
Appliance Concerns: Is your heater, air conditioner, or other major appliances getting old? Are you unsure of just how old or efficient they may or may not be because they were already in place when you purchased your home?
Air Quality Concerns: Is your home particularly dusty? Do you have eye or respiratory irritation, allergy symptoms, or asthma attacks at home? Is there a smell of mildew in your house?
Energy Costs: Do you think the amount you pay for your utilities is excessively and perhaps unnecessarily high?
Responsible Homeownership: Are you simply motivated to know as much as you can about your home so that you can make the best possible choices for the future? If you've never had an energy audit in Suwanee, GA, it's the best way to accomplish that goal.
What an Energy Audit Is
During a home energy audit, a variety of tests can be performed. Air leakage can be detected with a blower test. Ductwork can be inspected for damage and leaks. Appliances can be tested for their effectiveness and efficiency. And there's more to it than just the appliances themselves. It's also important to assess the layout of your home and placement of appliances, as well as whether they are appropriately sized for your home and whether they were properly installed.
Using the Information From an Energy Audit
Based on the assessments made during the energy audit, our team can tell you exactly where and how you are wasting energy. We can make recommendations about steps to take that would decrease your energy use, environmental impact, and utility bills. We offer many services such as duct repair, air sealing, insulation, air filtration and purification, and installation of heat and energy recovery ventilators, and we can help you determine which should be your top priorities as you begin your journey toward having an energy-efficient home.
We would be delighted to hear from you if you have specific questions about energy audits that we haven't addressed here.
To speak with a member of our team, contact DC Cheek Heating, Cooling & Plumbing today. Fixed, At the Speed of Life!