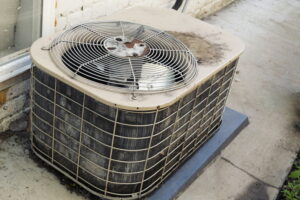 The weather is really warming up here in Georgia! While you're enjoying yourself in the sun, don't forget that there are things you should do to prepare for summer. And top of your list should be making sure your air conditioner is ready to handle another long, hot stretch of working very hard. If you're not sure your AC is up for keeping you cool all summer, it might be time for a new one. Here are three signs that it's time for air conditioning replacement in Cumming, GA.
Age
As long as you have professional maintenance performed every year, your air conditioner should keep working effectively and efficiently for at least ten years. It might be able to keep you cool and comfortable for as many as fifteen years. Here are some additional age-related factors to keep in mind while you're trying to estimate how much more life your air conditioner has in it.
Repair Needs: While your air conditioner might keep operating smoothly until it quickly and quietly kicks the bucket, it's more likely that it will have increased repair needs toward the end of its life. 
Refrigerant: In 2010, AC manufacturers transitioned completely away from the refrigerant known as R22. All air conditioners manufactured after that date use a safer, more environmentally-friendly refrigerant called R410A. This is important to consider because damaged or worn coils and refrigerant leaks are more likely to happen in older air conditioners. If this happens to an air conditioner that uses R22, it cannot be repaired, because there is no R22 to refill it with.
Maintenance: If you haven't been as diligent as you should with your AC maintenance, and your air conditioner has spent some of its years neglected, it has aged faster than it otherwise would have. If you've never had maintenance, your air conditioner's lifespan could be as little as five to seven years.
Repair Needs
There are two things to look at when it comes to the repair needs of an air conditioner. The first is the cost of a repair that the unit currently needs. It's recommended that you multiply the cost of the repair by the age of the air conditioner, and if your result is $5,000 or higher, it's more sensible to replace the unit. For example, a three-year-old AC unit in need of a thousand-dollar repair is worth repairing, but a twelve-year-old unit in need of a five-hundred-dollar repair is not.
The other factor here is frequency of repairs. As we mentioned, aging air conditioners typically need more-frequent repairs. If you're already needing to call a technician to check on your air conditioner more than once a year, you can only expect that frequency to increase, and those costs add up, even if each one is minimal.
Time for a Change
If you have not been happy with your current type of air conditioner, or are excited about new models or different cooling system options that are currently on the market, that is also an excellent reason for replacement. Perhaps you need a new heating system, and the idea of using a highly-efficient heat pump for both heating and cooling appeals to you. Or perhaps your ductwork has been deteriorating, and you're interested in ductless AC systems. We would be thrilled to share our enthusiasm for your many home cooling options, so reach out to us with your questions.
To speak with a member of our team, contact DC Cheek Heating, Cooling & Plumbing today. Fixed, At the Speed of Life!