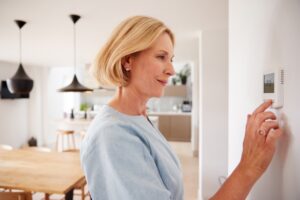 You might only think about your thermostat when you want to adjust it because you are too hot or too cold. It can be easy to overlook it when you think you have a problem with your heater. Sometimes, we get called in for repairs when a customer thinks their furnace is broken, and it turns out that the problem exists either in the thermostat itself or between the thermostat and the systems it is meant to control. Upgrading your thermostat can help avoid these problems and make sure you are able to get the home comfort you want right when you want it.

How a Thermostat Works—Or Doesn't Work

Your thermostat keeps track of the ambient temperature in your home. Let's imagine your thermostat is set to 70°F. During heating season, it turns your heater on when the temperature drops below a certain threshold and turns it off again when it reaches an upper target, keeping your home within a few degrees of 70°F at all times. During cooling season, the thermostat turns the air conditioner on when your home is a little above 70°F, and turns it off again when the temperature is slightly below 70°F.

But if the thermostat is miscalibrated, it may be reading the temperature incorrectly. It may turn your heating or cooling system on or off at the wrong temperatures. And if the thermostat becomes disconnected from the systems it's supposed to control, they may not turn on at all. If you're having these problems, or want to make sure to avoid these problems, you might want to look into smart thermostats in Cumming, GA and consider an upgrade.

The Benefits of Smart Thermostats

Thermostats used to only come with an imprecise dial to adjust. More recently, they had buttons and tiny digital screens. But the newest generation of thermostats are worlds beyond that. They are equipped with wifi capability and can be set from anywhere with an app on your phone. They can learn from experience, remembering your regular patterns of use, to keep you comfortable without requiring you to make frequent adjustments. They can maximize your efficiency and save you energy without sacrificing your comfort, providing energy usage reports that help you understand how to get the most out of your system. And, perhaps most importantly, they are far more precise than those old dials and don't require you to squint at tiny line markers and estimate the temperature you're setting it to. In fact, a smart thermostat that's compatible with voice command systems, like Alexa, can mean adjusting the temperature is as easy as saying what you want.

If you think you might be interested, we are always happy to provide customized, relevant solutions for you to consider so that you are empowered to choose what works best for your family, your home, and your budget.

For more information about smart thermostats, contact DC Cheek Heating, Cooling & Plumbing.