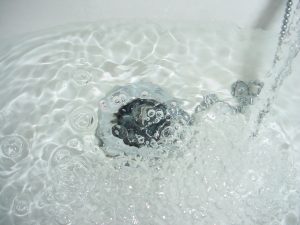 The number one tip we will always share when it comes to drain cleaning is, "don't use chemical store-bought drain cleaner!" It's never a good idea.
Look, we get it, a clogged drain is one of those problems that you expect you can resolve easily. Just pour some liquid down there and voila! The clog is gone. But that's not quite how it works. Clogs can be insidious in the sense that even though you can get rid of them for a while, they just come back. That is, if you aren't using the right drain cleaning practices.
When you hear the term "plumbing problem" you probably think of water flooding the floors, or a persistent drip coming from one of your faucets that you just can't seem to repair. These are, of course, certainly worth a call to a plumber in their own right, but so too is a clogged or backed up drain.
"Why Can't I Just Handle It Myself?"
We understand this temptation, especially when there are so many DIY videos online and savvy homeowners out there. Why not just pull up an instructional video, and do it yourself? Hiring a pro is expensive anyway, right? Drain cleaners you can get at the store are so much more convenient.
The problem with these store-bought "solutions" is that they are very caustic and not eco-friendly, nor are they healthy if you get liquid drain cleaner on you or breathe it in. Not only that, but they aren't likely to effectively remove the entire clog just enough of it to let a little cleaner through and then some water flow.
You can usually rent or purchase a hand operated drain snake from the store, but you still run the risk of forcing the snake through the clog and not actually removing it. Plus, you aren't addressing anything that might be going on deeper along the drainpipe.
Why It's Time to Call the Pros
Not only do our professional plumbers have the experience and skills that an amateur can't possess, but they also have the appropriate equipment to effectively locate your clog and permanently remove it. In addition to tools to actually remove the clog, we provide video pipe inspection so we can look down deep into your pipes and determine what the source of the clog was to begin with.
Once we pinpoint the source of the clog and eliminate it, we use this same equipment to evaluate the work we've done. This eliminates guesswork altogether—and our job isn't done until we ensure we've done a complete job.
We have a couple of different methods we use for effectively removing clogs. One is the use of a professional grade drain snake, that has an auger on the end that we guide down and pull the clog out with. The other method is hydro-jetting. This is used for tougher clogs, and utilizes a multidirectional sprayer head on an auger that scours the drainpipes. This is especially helpful for hardened material that's attached itself to the drainpipe walls, like limescale or even tree roots in the case of your sewer line.
Don't leave your drainage system to chance. Give our team a call if you need drain cleaning!
Contact DC Cheek Heating, Cooling & Plumbing for reliable and quality Woodstock drain cleaning service. "Fixed, At the Speed of Life!"