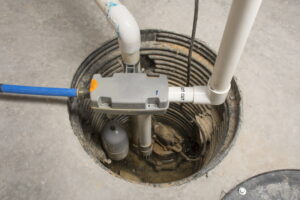 Sump pumps–one of those systems that you kind of hope you'll never need, but when you do, you'll be glad you have it. Sump pumps effectively remove water from the lowest point of your house in the case of a flood from either stormy water or from a plumbing mishap.
Of course, sump pumps can only do their job reliably if they are well-maintained. Professional maintenance is vital to keeping the system in great condition. But did you know there are smaller maintenance steps you can take on your own each season between annual tune-ups? Read on to learn how to adequately check your sump pump each season.
Testing Your Sump Pump
Testing your sump pump each year isn't going to cut it if you have an unexpected emergency and need it to work. You should be checking/testing your sump pump each season, and even more if you have an event where the sump pump actually gets used.
Fortunately, the process to test a sump pump is pretty simple. Step one is to check to ensure it has power and turns on automatically, by:
Checking visually if there are any cracks in the sump pump, or any fraying on the cord used to plug it in.
Finding the outlet where the sump pump is plugged in, unplugging and plugging it back in to sort of "reboot" it.
Pouring water into the sump. The sump is the actual pit where water collects. You will want to ensure there is no debris in the sump first, like gravel, rocks, or dirt. Then you can add a few gallons of water down into the sump.
If your sump pump is a pedestal model–positioned above the sump–you'll want to watch the float in the sump as the water raises it. This should activate the system to turn on. If your sump pump is a submersible model, the kind where the pump is down in the sump itself, then the pump should turn on once the water rises above the intake.
Remember, just because the pump turns on doesn't necessarily mean it's working as it should. You'll want to keep watching the pump to make sure it's actually removing the water. And you'll always want to test it with water, as testing it without could damage or overheat the motor.
If your sump pump doesn't seem to be operating as it should, then it's time to give our team a call. This is too complex of a system for DIY repairs, as you could inadvertently do more harm than good. leaving yourself with a water disaster.
Other Tips
In the most ideal situation, your sump pump will always work flawlessly in the case of a flood in your basement (or the lowest point of your home). But if you have an unfinished basement, some additional steps you can take is to:
Elevate important appliances like your washer and dryer if they're downstairs.
Make sure no electrical wiring or connections are located near the floor.
Please reach out to our team if you have any questions!
For professional sump pump plumbing service, contact DC Cheek Heating, Cooling & Plumbing today!