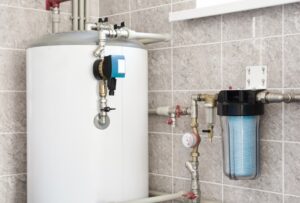 If you need to replace your water heater and are looking into your options, one of the main things you need to decide is whether you want a gas water heater system or an electric water heating system for your home. Both are good choices for different reasons, so it is a matter of considering what will work best for you, your needs, and your priorities.
Since electric and gas water heaters have major differences when it comes to cost, installation, maintenance, and efficiency, we'd like to give you a rundown of each of these considerations.
Cost
The purchase cost of a gas water heater can run from about $1,300 up to $2,600. When you see a price tag saying $1,000 on an electric water heater, it may seem obvious that it is the cheaper option. However, the low cost of natural gas means that you're likely to eventually recover the initial investment of the more expensive gas system. You can consider the cost to be about equal in the long term, but the immediate outlay of purchasing a gas water heater may be more than you want to invest.
Installation
Water heater installation in Sugar Hill, GA to replace a gas water heater with another gas water heater is fairly straightforward, though it must be done by a highly-qualified professional, because working on gas lines is hazardous and requires expertise. Replacing a gas water heater with an electric water heater is similarly straightforward. However, if you've had an electric system, switching over to gas can be complex and time-consuming, adding to the cost of installation. Creating a new vent will involve making a hole in your house, for example.
The time and money involved will be even higher if you're not connected to your local gas company's lines at all. The gas company will have to connect you before a technician can install the water heater, and they will charge you for that service.
Maintenance
Whatever system you choose, we strongly recommend annual maintenance to make sure it is working properly and flush sediment from the system. This service also extends the life of the system and reduces the likelihood that repairs will be needed. Gas systems have additional maintenance requirements like checking the gas line and all connections, and testing for leaks, so the time and cost of maintenance is likely to be slightly higher.
Efficiency
From an environmental perspective, an electric water heater definitely has the upper hand. They operate at near-perfect efficiency, which means that all the energy they consume is turned into heat for your water. Natural gas might have the word "natural" in the name, but the process of extracting it is destructive and releases greenhouse gases, meaning that even before you create the carbon footprint of burning the gas, it already has a negative environmental impact.

For water heater sales, installation, or service, contact DC Cheek Heating, Cooling & Plumbing today. Fixed, At the Speed of Life!