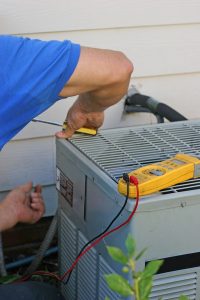 Your household's central air conditioning system is one of the most important features of your home in regards to comfort and quality of life. It's also one of the most specialized. As a homeowner, there's a number of tasks you can take on, like fixing a leaky faucet or tightening a nail in a piece of furniture. But when it comes to your air conditioning needs, repairs require specialized knowledge and training.
Just like the vehicle you drive, or any other large piece of equipment, your air conditioner needs routine maintenance to keep working as it should. It's a lot easier, not to mention cheaper, to address problems when they're just starting out than waiting until months later when you can't ignore them because your AC broke down. Maintenance helps you avoid large repair needs and keeps your cooling costs down, but of course, there is still a chance your system will need repair. How can you tell?
Your AC Has Low Cooling Output
This is a pretty apparent sign that something is amiss with your air conditioner. After all, it's supposed to keep your home at an even, comfortable temperature as it runs. Improper cooling power means something is wrong, whether it's something like a gradual refrigerant leak that requires a recharge and patch up, or even just an air filter that needs replacement.
It could also mean something more serious though, such as a failed compressor or iced-over evaporator line. No matter the cause, it' time to call a technician the moment you discover poor cooling power that can't be resolved by an air filter change, or checking to make sure your thermostat is in the right mode.
Your AC Has Low Airflow
So perhaps the air coming out of your cooling system is cool, but it's not coming out as powerfully as it used to. There could be a couple potential issues here. Your air conditioner's blower motor might be starting to fail. Or, there could be an issue with the ductwork in your home. If some rooms seem to be getting better airflow than others, this typically indicates a problem with the ducts.
Debris, mold spores, dust and other particles can accumulate in the cool, damp corners of your ductwork, which restricts airflow but also creates a bigger problem—it can become a health hazard for you and your family.
You Have Thermostat Troubles
Sometimes, your problem with your air conditioner is not a problem with the actual air conditioner itself, but rather the thermostat. Signs of a thermostat in malfunction may include an air conditioner that won't turn on, or won't shut off, a temperature reading that does not correspond to the temp of the house, or one or more rooms that are cooler or warmer than the rest.
The first thing to do if you discover this issue is to check to make sure the settings are correct on your thermostat. It may have been that a family member unknowingly switched from "auto" mode to "fan" mode, for example. If resetting your thermostat doesn't work, it's time to give us a call!
For reliable air conditioning repair in Duluth, GA contact DC Cheek Heating, Cooling & Plumbing. Fixed, At the Speed of Life!