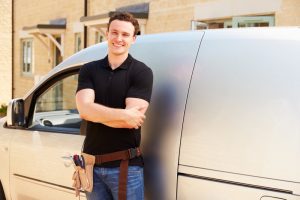 When you need to replace your HVAC system, or even schedule a tune-up or small repair, you have a decision to make on who to call. It may seem like a minor decision, but it can make a major difference to your HVAC system's efficiency and longevity!
It's a good idea to establish a relationship with an HVAC contractor before you trust them to do work in your home. Fortunately, we've provided a bit of a guideline below on the questions that you may want to ask your HVAC contractor before inviting them to install or service your climate control system.
"Do You Have Proper Licensing?"
HVAC techs are required to have state licensing. This shows that they have the training and expertise to do the job correctly. A handyman without licensing credentials hasn't proven that they have the knowledge needed to complete the job to industry and safety standards.
"Do You Carry Insurance?"
A reputable contractor will always carry insurance, which protects both the company and the homeowners. Any contractor that would conduct work without general liability insurance should probably be avoided.
"Do You Have a Storefront?"
You may have had an ad sent you in the mail, or even had a neighbor knock on your door claiming they offer HVAC services. Too often, these type of handymen will do the job and call it a day. By doing business with an established business in the area, you can rest assured that they'll follow up with proper services should you have problems with your HVAC system.
"What Are Your Other Customers Saying about Your Services?"
This is more of a "go online and look" question rather than a question to ask them directly—of course a company is going to say great things about themselves! The more important question here is, what do their online reviews say about their business and workmanship?
"Do You Come to My Home Before Installation?"
This is something you want! If you're looking to replace your heater or air conditioner, the HVAC contractor you hire should come to your home first to ensure they're installing the right sized system and there aren't any problems they need to address—like damaged ductwork.
Depending on the size and setup of your home, the model of HVAC system you need will differ. If an HVAC professional is reluctant to do a home visit, it's a sign you should probably look elsewhere.
"What Brands Do You Work With?"
It's always okay to ask your contractor what manufacturers they partner with! You want a contractor who works with quality brands and not just cheaper models. You know the saying, "you get what you pay for"? It applies here! If you get a really good price quote from an HVAC technician, you should ensure it's not based on substandard equipment.
Always Do Your Homework
Inviting an HVAC professional into your home to service something so vital to your comfort is a big decision. Doing a little homework today can give you a great, efficient system for the years to come.
To get in touch with a reliable HVAC company in Woodstock, GA, contact DC Cheek Heating, Cooling & Plumbing. "Fixed, At the Speed of Life!"