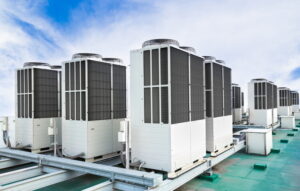 If you spend any time on city rooftops (or perhaps more likely, watching movies with rooftop fight scenes), you have certainly noticed the boxy, modular HVAC units that crown most modern commercial buildings. If you've ever wondered why rooftop HVAC units are so popular for businesses, there are several significant benefits these units offer, rendering most other options much less desirable.

Space
In the beginning, central HVAC systems were being added to older buildings that were built without planning for this new innovation. Therefore, no space was set aside within the building for these units. These buildings may also have been squeezed into city spaces that did not allow for ground-level outdoor units. It simply made sense to tuck the units up and out of the way on rooftops. Now, even with new construction, it still makes sense to use the indoor space of commercial buildings for their many commercial uses instead of for bulky HVAC equipment.

Efficiency
There are two ways that efficiency is better with rooftop HVAC units. First, the units themselves are built to higher efficiency ratings. Second, because there is open air around all sides of every unit, ventilation is very efficient.

Accessibility
Rooftop units are inaccessible when it comes to random threats such as vandalism or accidental vehicular damage which can impact ground-level units. But they're easily accessible to technicians, who can install, maintain, and repair the units without taking up space or interfering with the flow of the commercial use of the space. Unlike most other types of HVAC units, which have both an indoor and an outdoor portion that have to be serviced separately, rooftop units allow access to all components in the same place.

Noise
Perhaps we should say lack of noise. Because the units are so thoroughly out of the way of business traffic, they are very quiet for people in the building, such as tenants, employees, and customers.

Adaptability
Rooftop HVAC units are modular. In commercial spaces, it is common for there to be an addition to the building, a layout change, or an increase in the building's HVAC needs for some other reason. With these rooftop units, it is easy to add additional units to the system. This can increase its capacity without any need to purchase a new system or do significant modifications to the existing system.

Partner with a Team You Trust
It's always best to have a consistent service provider you can count on for all of your building's needs. A team that's already familiar with your layout and your system will always have the edge over a technician who is seeing it for the first time. Our team is expert in assessing commercial spaces and their needs and installing, maintaining, and repairing commercial HVAC systems. We are proud to provide service that is specially tailored to the needs of commercial buildings. If you have any questions about commercial AC in Sugar Hill, GA, or any other HVAC topic, we would be delighted to provide any information you need.

For highly-qualified, professional commercial HVAC service, contact DC Cheek Heating, Cooling & Plumbing today. Fixed, At the Speed of Life!