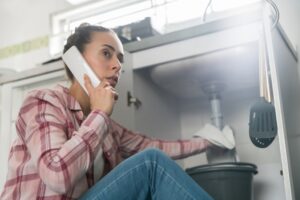 There are some times when you know for sure that you need to call a plumber. These are usually emergency situations: a burst pipe, a dramatic leak, or obvious damage to a plumbing fixture. But some plumbing problems give more subtle hints, and if you catch them early, you can avoid bigger problems and emergency plumbing at ten o'clock on a Sunday night. Here are some clues that you should book an appointment for plumbing services in Cumming, GA before things get any worse.

A Drop in Water Pressure
Usually, when your water pressure isn't what it used to be, the problem is one of two things. It may be a leak, where water is escaping somewhere you don't want it, and not making it all the way to where you're trying to use it. Or it may be a clog, with water having to sneak past an obstruction somewhere in your piping so it can't flow at its usual pressure. If this change has been gradual, it may be that a small leak is getting progressively worse or that hard water is causing limescale to build up in your pipes, slowly shrinking the space available for water. If the drop is sudden, it may be that a pipe has ruptured and is pouring water somewhere you haven't spotted yet. Either way, it's time for a plumber.

Increasing Water Bills
Again, this could happen gradually, with each month's bill being slightly higher than the previous one, even when the rate you are paying hasn't increased. Or, it could be sudden, with an unexpected spike in water usage showing up one month even though you haven't started filling an Olympic-sized swimming pool. These scenarios both indicate that a leak is likely. Unfortunately, even if you aren't benefiting from the water that is lost to a leak, you still have to pay for it. One way to see more clearly what's going on is to shut off all the appliances that use water in your home. Now look at your water meter: if it's running, there's water going somewhere, and a professional plumber can determine where.

Planning for the Future
Maybe nothing is going wrong with your plumbing at the moment. But a plumber can help in other ways. Inspecting and possibly replacing old plumbing before a serious problem occurs is an excellent way to avoid future plumbing emergencies. And of course, our team can also provide installations of plumbing when you remodel a kitchen or bathroom, or if your basement needs a sump pump to prevent seasonal flooding. And it's not just piping for water that we service. Our team is also licensed to provide safe, quality service for residential gas piping.

If you have any questions about the services we provide, or any concerns about the plumbing in your home, we are happy to provide all the information you require.

For experienced, professional plumbing service, contact DC Cheek Heating, Cooling & Plumbing today. Fixed, At the Speed of Life!