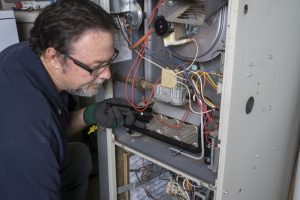 Surely, with the official start of winter just a week away, you've scheduled furnace maintenance, right?
If not, don't worry, it's not too late! In fact, it's much better to schedule your furnace maintenance now, or even in the middle of winter, than to skip it altogether this year. This is particularly true if you have a gas furnace—skipping a tune-up in this case might not only leave your furnace at risk of operational problems, but expose you to safety issues as well.
Sure, it's typically best to have this job done before temperatures drop to their coldest, and sometimes we can get cold snaps far before wintertime comes around, but if you're reading this and haven't scheduled your tune-up yet, please give us a call! In the meantime, read on to learn more about the importance of this service.
Safer Operation
This is the most important reason you should have furnace maintenance done. The last thing you need to worry about is that your furnace may become a danger this season. As we alluded to above, this is mostly a concern for natural gas-powered furnaces. This is the most common type of furnaces found in homes today, and for good reason—but with the efficient and effective comfort you get comes a responsibility to the safety of your home.
During your furnace tune-up, our pros run through inspection checks that investigate places where your furnace may develop safety problems, like a cracked heat exchanger or loose gas line. The peace of mind you'll have after a thorough maintenance session is worth it all on its own.
Prevent Repair Needs
When temperatures drop and your inside on a cold night enjoying the warmth of your furnace, the last thing you're going to want to do is scramble to call for repairs when that warmth all of the sudden stops flowing in.
We do offer after-hours services for our customers (which are free for our maintenance plan customers), but we'd like to help you avoid these problems to begin with, by ensuring you have a reliable furnace system. A tune-up gives your furnace the best chance of coming through the winter without an interruption in service.
Maintenance also stops smaller repair needs and inconveniences that add up to wasted money and time. In fact, keeping up with your routine maintenance sessions can prevent up to 85% of the repairs a furnace may ever need over its service life.
Extended Furnace Lifespan
Speaking of that service life, you want your furnace to last for as many years as possible before needing replacement, right? A premature furnace replacement is likely an expense you'd want to avoid. Maintenance helps your furnace achieve the longest possible efficient lifespan.
Keep Heating Costs Down
A furnace that doesn't receive routine tune-ups and thorough cleaning will wear down faster than one that does. With problems like friction on the motors and burners struggling to produce enough heat, the furnace will drain more power than necessary to run, causing an increase in your heating bills.
Maintenance helps your heating system retain 95% of its energy efficiency rating through most of its lifespan.
For expert Suwanee furnace service, contact DC Cheek Heating, Cooling & Plumbing. "Fixed, At the Speed of Life!"