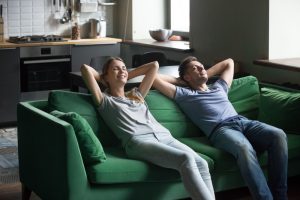 The very short answer to this is, "no." But don't worry, we'll elaborate!
The air filter that comes standard with your HVAC installation is there for an important reason. Its function is to protect the HVAC system itself from dust, dirt, and other debris that can settle on its internal components and negatively impact the system's efficiency and performance—costing you more money in the long run. This air filter certainly helps pull a little bit of dust and other contaminants from your indoor air, but this isn't its intended purpose.
For more powerful air cleaning, you'll want to consider the installation of a whole-house air purifier.
"Do I Really Need a Whole-House Air Purifier?"
Everyone wants to breathe the best quality of air as possible, right? This could be reason enough to invest in a whole-house air purifier, but we don't expect you to take that at face value. These are things you should watch out for that indicates you could benefit from such a system:
Smelly or Stuffy Air
Dirty Ductwork
Increased Allergy and Asthma Symptoms
Constantly Dirty Home Surfaces
Mold Buildup
"What Are the Benefits?"
Aside from eliminating the problems we just mentioned above, there are a number of additional benefits to using a whole-house purifier.
On that note, we know it's tempting to buy a small, portable air purifying unit to use in your living space. This will have some impact on your indoor air quality, but if you want to achieve the best result than you should contact your local HVAC and indoor air quality experts to see what type of whole-house system would be the best option for your needs.
So, what are the benefits of such a system?
Cost-Efficiency
Small, portable air purifiers can handle one or possibly two rooms at a time. Rather than investing in multiple units to place haphazardly throughout your home, a whole-house system cost-effectively allows you whole-home comfort.
You also won't need to worry about maintaining several units—instead, you'll just have one, located near or even within your HVAC system. Cleaner air throughout your whole home allows you to change your air filters less often, too as an added financial benefit.
Convenience
A whole-house air purification system can usually be integrated into your HVAC system and/or its air duct system. This means you don't have to take up room space with smaller units, and you don't have to deal with the noise associated with them. Additionally, you'll have uniform indoor air quality throughout your home 24/7.
Lastly, while an air purifier can't mitigate serious mold infestations, the use of one can help this type of problem from forming. For this problem, you may also want to consider the installation of a whole-house dehumidifier. Contact our team to learn more!
Extended Equipment Life
The cleaner your HVAC system is, the better it can perform. Integrating a whole-house air purifier into your system keeps the cooling coils clean and allows your system to run more efficiently.
For your indoor air quality needs and more, contact an HVAC contractor in Cumming, GA you can trust—contact DC Cheek Heating, Cooling & Plumbing!